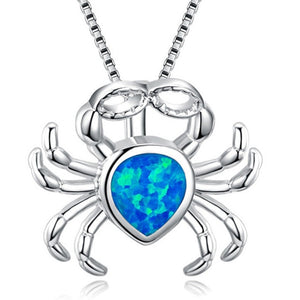 Save Ocean Animals Jewelry Necklace |  Beach and Ocean Life Crab Blue Opal Necklace, 
The classic fun cute and bright blue necklace is made for the crab lover in you. Its the perfect choice if you wish to maintain and sustain their existence in the eco system.  If this is for you join our cause to save sea life.

A must have for any sea life lover in your ocean jewelry collection.
This is in our Ocean Jewelry Collection.
Each sale saves sea life with Ocean Conservation charity donations.